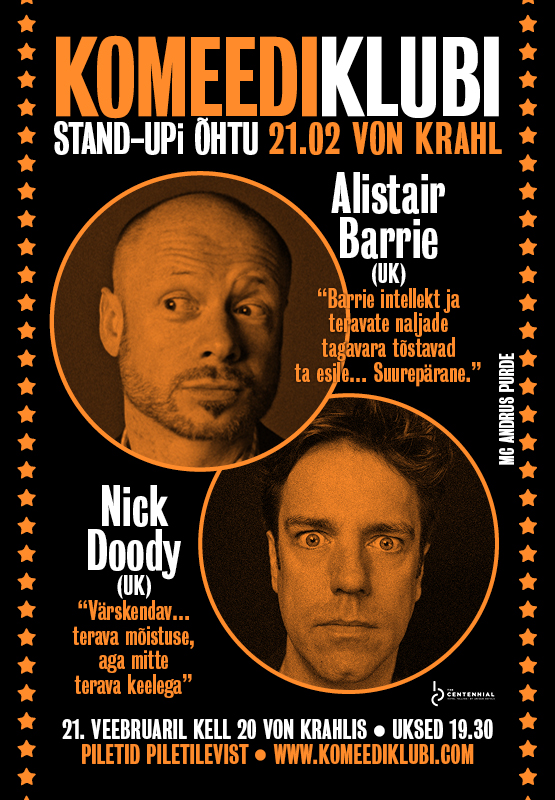 Feb 21st: Alistair Barrie & Nick Doody
Feb 23, 2018
Estonia's most laughable club invites you to a fine evening of British club comedy.
Alistair Barrie
is one of the top headliners on the international comedy circuit. He has performed in over 40 countries including acclaimed performances in Australia, Cape Town, Mumbai and the legendary Comedy Cellar in New York. He is a regular at London's world-famous Comedy Store and a core member of their weekly topical 'Cutting Edge' team.
"Barrie's analytical nous and store of snappy gags mark him out ... Excellent."
- The Independent
"Properly smart comedy for grown-ups. By a properly smart comic"
★★★★ The Scotsman
Nick Doody
is a true craftsman of jokes. He has been performing comedy since the 90s when, as a student, he got off to a pretty good start by supporting the legendary Bill Hicks, at Bill's request. Since then he has performed all over the world, appeared on various radio and TV shows and is also much in demand as a writer. He has penned jokes for Joan Rivers, Lenny Henry, Dame Edna Everage and an uncomfortable number of "Mock The Week" regulars.
"All hail Nick Doody…true comedy gold: polished, rich in material and a find among all the fools."
- METRO
"very impressive … unfailingly good punchlines … intelligent and funny"
- CHORTLE
MC is Andrus Purde, one of top 30 Estonian comics of that height.
Massive thanks to
Centennial Hotel Tallinn
for helping our acts get a good rest.