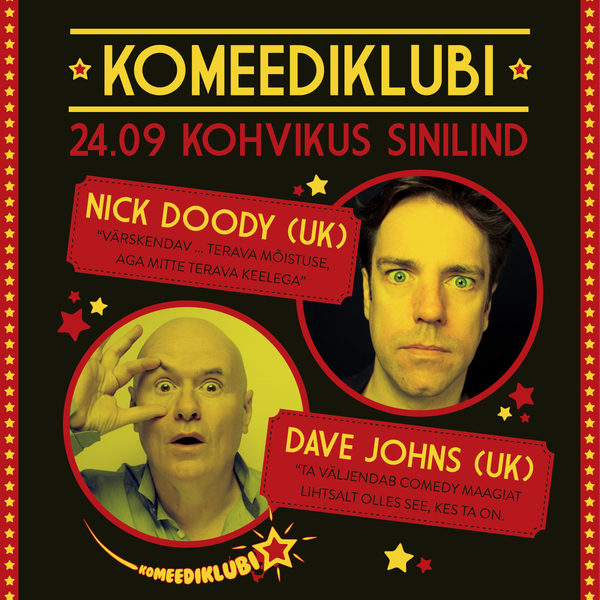 Sept 24th: Nick Doody & Dave Johns
May 16, 2014
Estonia's most laughable club kicks off its fifth season, this time in Cafe Sinilind. You'll enjoy two comics with very different styles and who are equally awesome.
Nick Doody is sharp, topical and not afraid to say what he thinks. His brand of intelligent, honest and incisive comedy has won him fans all over the world. In addition to live work Nick is very much in demand as a TV and radio comedy writer, having written for the Sony Award-winning Armando Iannucci's Charm Offensive and many other shows. It is no surprise then that whilst still a student, Nick supported the late Bill Hicks on his final tour of the UK at the request of Hicks himself.
"A refreshing change…Sharp witted, but never sharp-tongued"
Dave Johns has gained a reputation as an inventive, exciting and extremely funny comedian winning applause from his audiences, respect from his fellow comics, and rave reviews from the critics. He's a great improviser and back in February, Dave performed in Estonia as part of Stephen Frost's Improv Allstars. This time we'll see his stand-up skills which audiences in festivals and comedy clubs around the world have learned to love.
" Performs comedy's greatest magic simply by being himself , a genuinely funny engaging performer"
MC
Andrus Purde