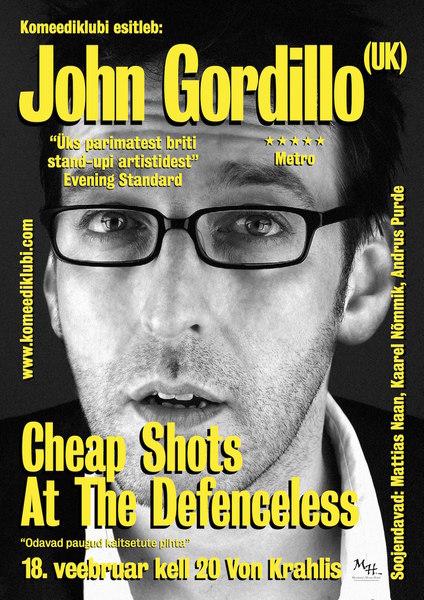 Feb 18th: John Gordillo (UK) "Cheap Shots At The Defenceless"
Jan 26, 2015

John Gordillo
is a Perrier Award-nominated English comedian who is known for his intelligent style of humour. He's one of the rare breed that can make you laugh and see things in a new light at the same time. John has directed shows for Eddie Izzard, created popular TV shows and toured all around the world. John is one of our absolute favourites and we're very glad to welcome him back to Estonia. He was the star of the historic first Komeediklubi back in 2010. Remember that roaring laughter?
"if you want intelligent, moving comedy with a point, then you cannot afford to miss Gordillo."
- Chortle
"One of UK's finest stand ups"
- Evening Standard
This time John is treating Tallinn to his 70-min solo show "Cheap Shots At The Defenceless". It's about love, marketing and showbusiness and how they all feel like the same thing.
Warm up (in Estonian) by
Mattias Naan, Kaarel Nõmmik
and
Andrus Purde
.
Tickets are 16€ pre-sale via vonkrahl.ee
, 12€ to students, 19€ on the door. Doors 19.30, show starts 20.