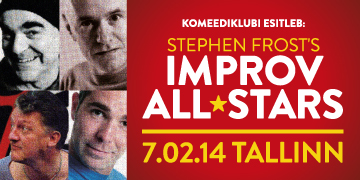 Stephen Frost's Improv Allstars back in Tallinn Feb 7th 2014
Dec 15, 2013

Four brave performers will arrive with no script and not the faintest idea of what will happen. Willed on by a supportive crowd, through improvisation they create sketches and comic dramas that are amazingly inventive and sometimes take off into flights of surreal brilliance.
Stephen Frost's Improv AllStars grew out of the popular TV show "Whose Line Is It Anyway?", with members from the TV show itself and UK's top improv groups. The all-stars troupe has played festivals all over the world: Adelaide, Hong Kong, Qingtao, New York, Galway, Cap D'Antibes, Singapore, Taipei, Darwin, Paris and many places more. Following their first sell-out show early 2013, they return to Tallinn.
Stephen Frost
has been part of hit TV shows such as Whose Line Is It Anyway?, Saturday Live, The Young Ones and Never Mind The Buzzcocks. Stephen has also acted in Blackadder and in Mr Bean Rides Again in addition to performing at many Edinburgh Festivals and acting on the stages of the West End.
Sharing the stage are
Andy Smart
(Comedy Store Players),
Dave Johns
(Comedy Store Players, Never Mind The Buzzcocks) and
Carl Kennedy
(The Suggestibles).
Tickets are €16 and €13 (students) pre-sale and €20 on the door (if any are available). Available via
Piletilevi
or
Ticketpro